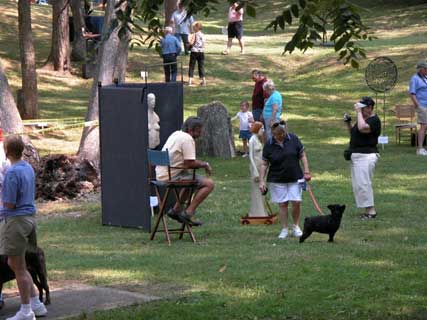 Mark your calendars now for the 27th Annual Sculpture Celebration - September 8, 2012 at the lovely Broyhill Walking Park! (Friday, September 7th set-up 10am-7pm & "Blue Jeans Preview Dinner" (casual buffet) 7-8:30pm with comments from Judge Gerald Bolas; Saturday, September 8 setup 7am-9am; open to the public 9am-4pm; judging occurs 9am-3pm with awards announced about 3:30pm).


http://www.caldwellarts.com/
178-sculpture-celebration/
Awards:
$2,500 First Place Award
$2,000 Second Place Award
$1,500 Third Place Award
$1,000 Fourth Place Award
$500 Judge's Awards (6 Awards)
$500 People's Choice Award
Judge: Jerry Bolas, Executive Director, City of Raleigh Arts Commission
Over the course of thirty-five years Jerry Bolas directed three art museums, including the Ackland Art Museum at the UNC-Chapel Hill, the Portland Art Museum (Oregon), and the Gallery of Art at Washington University in St. Louis (now the Mildred Lane Kemper Art Museum). He organized numerous exhibitions, including two with international teams of scholars: Ketav: Flesh and Word in Israeli Art, 1996, and Paris in Japan: The Japanese Encounter with European Painting, 1987. At all three museums he advanced community engagement through collaborations across institu-tional, regional, and national networks, and he nurtured both formal and lifelong learning in and out of the museums through programs like the Ackland's Five Faiths Project, which was recognized as a national model. In 2006, Bolas launched a consulting business to serve museums, commu-nity arts organizations, and academic institutions. Clients included Clemson University, the South-eastern Center for Contemporary Art (SECCA), the NC Department of Cultural Resources, the Arts Council of Winston-Salem/Forsyth County, the Ackland Art Museum, the Museum of Contemporary Religious Art at St. Louis University, and the Raleigh Arts Commission. As a visiting scholar in the American Studies Department at UNC-Chapel Hill, in 2008 Bolas taught a course entitled Electrify-ing Art! focused on art that employs televisions, lighting fixtures, computers, and other electrical and digital apparatus for artistic expression. In December 2011, Bolas became executive director of the Raleigh Arts Commission, where he currently collaborates with the 12 city council-appointed commissioners, city staff, community arts leaders and artists to envision and deliver arts for all residents of Raleigh. Bolas has a Ph.D. in American art from the City University of New York and a M.A. in medieval art from the University of California at Santa Barbara.
Caldwell Arts Council
P O Box 1613
Lenoir NC 28645